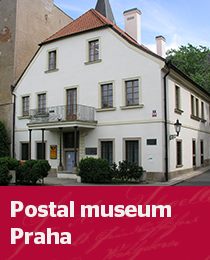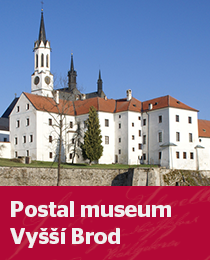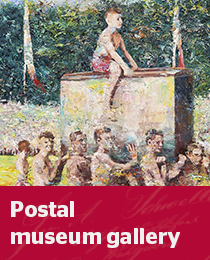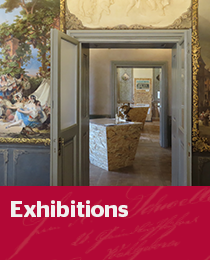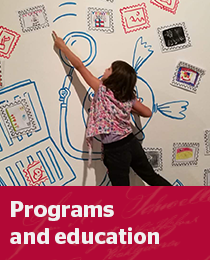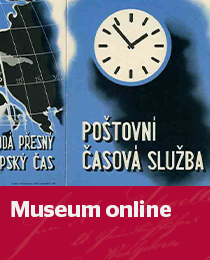 View Postal Museum's expositions to learn more about postal history, travelling, telegraph and telephone communications, transportation technology and the world of stamps. Take a visit to our venues in Prague or Vyšší Brod and you will have a great cultural experience.
Postal Museum Prague
is located in Prague 1, on the right bank of the Vltava river (nábřeží Ludvíka Svobody), in the so-called Vávra's House, a former Prague-based miller's family residence.
Visitors can take a guided tour to see the ground floor with an exposition of Czechoslovak, Czech and foreign stamps and the first floor with short-time exhibitions on postal history and stamp design. The 1847 murals by leading Czech painter Josef Navrátil make the impression of the tour even stronger. More informations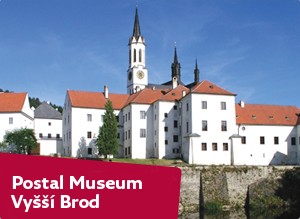 The Vyšší Brod venue is located in the building of the Cistercian monastery in Vyšší Brod.
Visitors can take a guided tour through an area of almost 2,000 m2 of attractive expositions mapping the past development and transformation of postal services. Displayed in large numbers, authentic exhibits such as, postal uniforms, post office signs, mail boxes, cash boxes and telecommunication devices, are used to document everyday postal operations. A unique collection of mail coaches and sleighs maps the history of postal transportation. More informations