Shop
---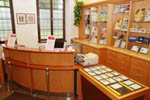 The Postal Museum's shop has a long tradition, with the first shop being set up already at the time of the museum's establishment. The present shop runs two outlets, one in the Prague-based venue and the other one located in Vyšší Brod.

Both outlets sell stamps, commemorative postcards with additional prints, commemorative sheets, picture cards, souvenirs and publications.
PM Prague
Nové mlýny 2
110 00 Prague 1

Opening hours: Wednesday to Sunday: 9 – 5 p.m.
Please come at 4.30 p.m. at the latest to buy a ticket.
Contact person : Michaela Slabá
Phone: + 420 954 400 386
PM Vyšší Brod
Klášter 136
382 73 Vyšší Brod

Opening hours : Tuesday to Sunday: 9 – 5 p.m.
Contact person : Ivana Samková
Phone: + 420 380 746 679
---
Online Stamp Service
Did you like the stamps and collections displayed at the Postal Museum? Are you contemplating creating your own collection of Czech stamps? If so, make sure to visit the Past issues page on the website of Czech Post to order stamps from your home via our Online Stamp Service.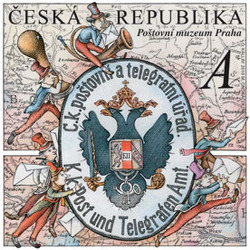 The Online Stamp Service is a fast and simple way to get both new and past issues of Czech postage stamps from 1993 onwards (provided they are still in stock). Issues that are already out of stock are clearly identified with an icon. The Past issues page makes it easy to find out and order the stamps you want.

The ordered stamps will be delivered by COD mail to the address given by you.
For more information about the ordering procedure and other details visit our Online Stamp Service.