Cash boxes
Cash boxes - boxes used for securing cash and valuable objects - were an integral part of the equipment of postal stations and offices from the very beginning of postal service in this area back in the 16th century. In a sense, they belonged to the very essentials to be found at every postal outlet as secure keeping of cash and other valuables has always played a key role in postal service.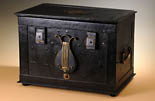 ---
The 17th and 18th-century cash boxes are among the oldest three-dimensional objects preserved by the Postal Museum as evidence of outstanding craftsmanship of the smiths and locksmiths of the time. Some of them have engraved or painted decorations with plant or landscape motifs. The cash box from Vrané nad Vltavou dated 1829 serves as evidence of period protection against thieves: it has an installed firing mechanism to be activated by anyone who might try to unlock the box without permission.
Relating to cash boxes is the set of safes, with the oldest one made by Viennese-based firm Wertheim in the late 19th century. The hand cash boxes, used by drivers of mail coaches and mixed mail and passenger coaches to carry cash and valuable mail, date back to the same period. Standardized hand cash boxes started to be introduced in post offices after 1900; this practice has survived until today and is documented in the sub-collection by several more recent cash boxes.
---
Photo gallery