Paintings and sculptures
Materials in this sub-collection have a relation to postal services and display different levels of artistic quality. The first acquisitions, made in 1926, were seventeen oil paintings produced by a local painter for Žamberk postmaster Kamil Schopf, with motifs from postal transportation taken mostly from period colour postcards.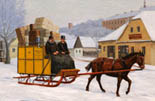 ---
Other paintings in the museum's property with transportation-related motifs, have a higher value; the most valued is the 1818 portrait of a Napoleonic rider by George Ridel. Portraits of 18th and 19th-century hereditary post office administrators, postmasters and postal directors are also frequently represented in the sub-collection, although only a few were autographed by the painter (e.g. the 1824 portrait of postal director Augustin Schöbl by Vojtěch Staubmann) while the rest remained unsigned (e.g. the 1820 portrait of postmaster Doubek from Votice, portrait of Tábor's postmaster and mayor Jan Antonín Sebenarz from the second half of the 18th century, portrait of postal director František Šafařík Pštross from the second half of the 19th century, and others). A recent acquisition - Rococo, Classicism and Biedermeier portraits of hereditary Litovel postmasters Jakub, Karel and Gustav Rettigs - also belong to this set of paintings. Other paintings include official portraits of rulers, in most cases Franz Joseph I; his portrait by J. Böhm. made as a copy of an original by František Ženíšek, was originally owned by the Prague-based Headquarters of Post and Telegraph Offices.
A set of still life and landscape paintings by Jiří Hudeček, ordered by the then Communications Ministry and transferred to the Postal Museum in the mid-1970s, belongs to the more recent artefacts. Other materials in the sub-collection include Cyril Bouda's watercolour with a Prague veduta, created together with his 1962 stamp design with a similar motif, and other watercolours and drawings with postal motifs, some of them made by Oldřich Hlavsa.
Together with official Tomáš Garrigue Masaryk's busts, the set of sculptures features a Maximilián Fatka's bust by academic sculptor Čeněk Vosmík; a 1920s bronze sculpture Genius of the Postal Service by the same author; Ladislav Kofránek's 1927 designs of sculptures used to decorate the long-distance telephone office at Prague's district of Žižkov, or the contemporary sand sculpture Postage Stamp created by Ivan Jilemnický in 1976.
---
Photo gallery