Means of mechanisation
Scales and weights were the first means of mechanisation introduced in the postal service as tools necessary for the setting of postage after the publication of the 1722 tariff list. The weight units used until 1871, when the Austrian monarchy introduced a metric system, were the Austrian lot (17.5 g) and the grain or pound (0.56 kg, or 32 lots). This sub-collection contains a number of different types of letter and parcel scales, starting from equal-arm balances through lever and spring scales up to automatic and electronic scales, and a variety of lot and metric weights.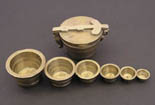 ---
Typewriters, introduced by the Austrian Post in large post offices and control stations in the late 19th century, belong to more modern means. Another set of materials includes franking and cancelling machines; the oldest types were used to attach so-called wafer seals to telegraph blanks or stamp postal money orders. The machines became widespread in the interwar Czechoslovakia, with products made by Kolín-based firm Josef Klepáč being the most common. In the second half of the 20th century, they were replaced by the newer Grafos machines, used by post offices to serve similar purposes.
Addressing machines, later known under the name Adrema, first appeared in the 1930s. So-called franking machines are a significant part of the sub-collection. The first ones marketed by US firm Pittney-Bowes appeared in 1920. This type of machines is locally known as "Francotyp", the name of the most common product whose trial operation in the Czechoslovak postal service started back in 1926. Different kinds of adding machines and calculators, which started to become commonplace in the 1920s, are also represented in the set together with Francotypes. Other materials preserved in the sub-collection include telegraph blank, postage stamp and postcard vending machines. The set of modern mechanisation means contains examples of information technology, such as an APOST workstation currently used by all post offices across the Czech Republic. The first 125 offices, with 548 counters connected to the automated APOST system, appeared back in 1994.
---
Photo gallery